2 Million BC | Slot Game Review
The Vitals
In More Words
Slot machines and casinos weren't existent 2 million years ago. But this slot game made it possible as Bet Soft attempted to create a prehistoric-themed slots game so then you can enjoy a brand new game on their end. 2 Million BC is a 5-reel slots game that will surely take you into the world of cavemen and dinosaurs.
The game is set on a prehistoric timeline where there are no cities and even villages. It's just pure primitive landscape where there are lush green plants and a caveman which might be our ancestors. The slot machine is made of tree branches in the prehistoric jungle and contains reel frames that are made of stone. The symbols of the game contain various items by cavemen such as clubs and carving stones. There are also stone wheels and pots which serve as the game symbols.
So if you want to take on a different adventure back in time, start spinning the reels after placing your bets. You can also go for a bet max spin to automatically spin at max bet amount.
Bonus Features
Scatter Symbol
The camp fire is the scatter symbol of the game which can give you free spins if you hit 3 or more of them anywhere on the reels. You can get more free spins if you re-trigger this during the free spins round.
Saber Attack
This feature is activated upon landing on 3 acorn symbols. This will cause the cavemen to jump off on top of the reels in order to shoot the Sabertooth Tiger. Knocking out the wild animal causes you to win a huge prize.
Diamond Bonus
This can be activated by landing on 3 or more diamonds. This can make the caveman choose a method to steal the diamond from the Sabertooth Tiger. This rewards you by multiplying the bet that you made during the spin.
---
How Does It Look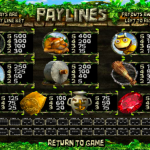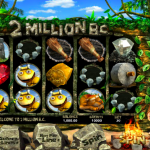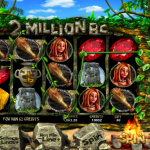 The Bottom Line
2 Million BC will definitely take you into an adventure towards your riches in an era where money has never even made. After all, if you're as smart as a modern human during those times, you can develop a lot of ideas that might have made you rich in terms of supplies, if not money as money wasn't even existent 2 million years ago. This is also one of the most entertaining slots game that you can ever find in Bet Soft games as the graphics are very amazing in terms of quality.
Something different? Well if you like cute games with huge jackpots then consider playing 4 Seasons a 5 reel slot by BetSoft.
To play the real version of the game try playing in one of the following BetSoft casinos: