Ace Of Spades | Slot Game Review
The Vitals
In More Words
Ace of Spades is a 3-reel slots game that's based on the traditional deck of gambling cards. That means you will see the usual things that you often spot in casinos – the cards. The symbols of the cards will define your winnings, and you can see them all of the paytable. There are also other symbols found in the game such as shamrocks and crowns, and it will surely make you feel grand as you score winnings out of these symbols.
The game is also known to have 1 payline only, which is a feature that some may not like if they are used to playing at multiple paylines. But the game has a wide bet range – which serves as a compensation of the lack of paylines in the game. The game is also known to have a fair game policy so then everyone can have equal chances of winning without any worry.
Bonus Features
The only bonus feature of the game are the multipliers which can increase up to x4 depending on how often you consistently win with every spin that you make.
---
How Does It Look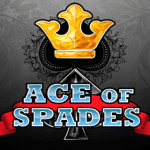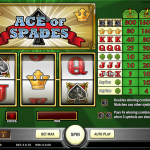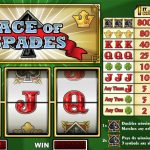 The Bottom Line
Ace of Spades is guaranteed to be a game that will give you some nice rewards since the game has a high bet range. It's just too bad that the game doesn't contain too much bonus features. But the multipliers are very easy to get as the reels contain only a few symbols only. And take note that getting 3 spades on the line can let you win a jackpot of 2500 coins. So good luck in getting it!
Something different? well if you love ancient cultures consider playing Aztec Warrior Princess a 5 reel slot by Play'N Go.
To play the live version of the game go to one of the following casinos: