All American (Multi Hand) | Game Review
The Vitals
In More Words
All American (Multi Hand) is a video poker game from NetEnt that everyone would enjoy. The design of the game is simple yet elegant. We have the patriotic feel thanks to the flag that waves on the left side of the screen. Besides its modern look, the game has kept everything the classic poker game has. So here as well you can find fast game play and high payouts.
All American (Multi Hand) is very easy to play. The good thing here is that now you can play many hands at once, unlike just one hand in other versions of the game. This version of the game also follows the general rules that apply to poker. The hands you can have are as follows: Jacks or Better, Two Pair, Three of a Kind, Straight, Flush, Full House, Four of a Kind, Straight Flush and Royal Straight Flush. In this game the Double Up Feature is also available. You can gamble after every win where you need to guess the color of the face down card to double your win. You can do this up to 5 times but be very careful because you can lose with this feature very fast. After all this is a feature that requires luck and no skills whatsoever.
---
How Does It Look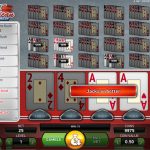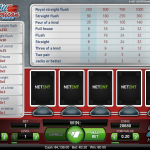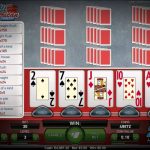 The Bottom Line
All American (Multi Hand) is an awesome video poker game and we had a nice time playing it. We need to thank NetEnt for allowing us the chance to play this game at all. They always put an effort to upgrade already existing games to enhance your experience. This is also a great game where you can test your poker skills or learn the poker hands fast, if you are a beginner of course. Even if you are not we believe you will enjoy this game as well, since it offers everything we are looking for in a poker game.
For another all time classic try playing Joker Wild by NetEnt.
To play the live version of the game go to one of the following casinos: