Arrival | Slot Game Review
The Vitals
In More Words
Bet Soft really doesn't fail when it comes to giving you more reasons to enjoy slot games in a different way. They definitely specialize in 3D graphics with various themes that will make slot games look like it's a whole different game. Arrival happens to be one of those games as it will take you into an intergalactic mission as you plan your arrival to land on big winnings as you bet in this game.
The game is set in an alien-like space ship where the slot machine is found on the main controls of the screen. The reels are placed on a 3×5 grid and are framed per reels. The symbols are composed of space stations, UFOs, aliens, planets and even the commander of the game.
So if you want to take on an intergalactic journey that's out of this galaxy, then start placing your bets by pressing the command buttons on this very unique space ship. You can also go for them max bet spin to quickly adjust the game at an all-out betting pace.
Bonus Features
Click Me Feature
Landing on three or more ray guns can let you select UFOs in order to get cash prizes – which include a jackpot prize.
Wild Symbol
Get three or more brain aliens in order for the UFO to make one reel into a wild while giving away some cool free spins.
Save The Girl
You can become a hero of the game by getting three girl symbols in order to access the Save the Girl bonus round. Saving the girl in the bonus round gives you a ton of coins to enjoy and withdraw as your cash!
---
How Does It Look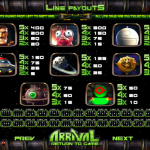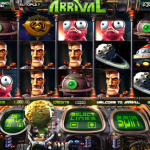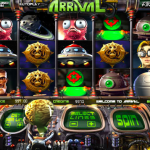 The Bottom Line
The out-of-this-world features of Arrival can be enough for most players to enjoy a lot of bonuses. This game contains a lot of surprises that will definitely make you feel like you're not playing slots anymore. After all, 3D games are present to give you a different kind of gaming experience while retaining the classic method of gambling with a slot machine!
If on the other hand you're much more in a beach mood then consider playing At The Copa a 5 reel slot by BetSoft.
To play the real version of the game try playing in one of the following BetSoft casinos: