Art Of The Heist | Slot Game Review
The Vitals
In More Words
Gambling is always involved with the world of crime. That's why there are some game designers that decided to add the element of crime in some of their games. Aside from adding the Mafia into the game, some added burglars and cops only. Art of the Heist is one of those examples as the game will take you into a burglar-themed game that's set in a museum.
The game has interesting graphics in it. The game is set on an outdoor area of a museum and the slot reel frame is designed after the exterior model of the casino. The pillars separate the reels from each other. The buttons of the game are just displayed at the bottom of the screen and has nothing to do with the game's design. The game's symbols contain the typical high card values such as K and J but with artifacts from museums beside it such as relics and ancient helmets.
The game has a very nice graphics in it – making it a perfect game to enjoy. The music is also relaxing. So if you want to begin, start placing your bets by setting the right bet amount for you or by pressing the Bet Max button to bet at the highest amount. You can also press the spin button or autoplay if you want to start.
Bonus Features
Wild Symbol – The game's wild symbol offers substitution on all of the other symbols in order to give you easier ways to land combos. This can also gives you one more free spin if you land the wild symbol.
Reverse Symbol – The mummy can reverse the spinning of the reels once you land on it and you manage to awake it.
Lockup – You can also get the reels locked for a while if you land on the security guard symbol in the game. So be careful with that unless you have something good on the reel that got locked.
Bonus Round – There is a bonus room that can be accessed if you land on the portrait symbol that has bonus on it. This will take you into a mini-game where you have to help the burglar navigate the museum's backroom. There are sets of keys that can unlock the door and give you amazing winnings. Ending this game successfully gives you free spins with expanding wilds on it.
---
How Does It Look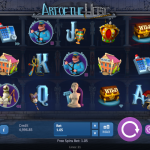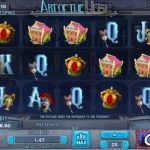 The Bottom Line
Art of the Heist may make you feel like you're the accomplice of the burglar of the game. But this game will actually help you in getting more money just like scoring a huge one on a heist. But don't worry, there will be no money stolen when you play this game and it's just a normal gambling game.
Something different? If you think witches can bring you luck then you should consider playing SpellCraft a 5 reel slot by Playson.
To play the live version of the game go to one of the following casinos: