Aztec Treasures | Slot Game Review
The Vitals
In More Words
Ancient history will never be complete without treasures. Even the oldest of civilizations have their own treasures that many people consider as very huge in terms of its prize. This is the very theme that Aztec Treasures has as the game will take you into an adventure to the ancient civilization in order to get the treasure that they have in the form of a slots game.
The game is set on an Aztec forest. The game's reels are made of a 3×5 grid that's shaped like a slot machine. But the reel's framed are modeled after the appearance of an Aztec structure. The symbols of the game are mainly composed of various artifacts, people, animals and symbols that were found in Aztec ruins. The game's title also serves as the symbol of the game.
Just place your bets and press the spin button if you wish to gamble your money in this amazing game. You can also go for bet max and autoplay for a faster way to wager. Take note that this game also has a progressive jackpot – making the thrill of gambling bigger over time.
Bonus Features
Aztec Treasure Secret Room
You need to collect all of the colored gem stones to activate this feature – where you will get a lot ofp prizes once you made it through the end of this feature.
Gecko Icons
You will get free spins in this game once you access three or more gecko icons. You can get more free spins with every gecko on the free spins rounds.
Click Me Bonus
This bonus can be accessed by activating three or more Aztec Calendar symbols. You can also press one of the calendar icons to get up to 20000 coins.
Aztec Man and Woman
If an Aztec man with two other symbols with an Aztec woman appears on reels 2 – 4, the Kiss Me wild reel feature is activated. In order to give you higher chances of winning.
Extra Wild Symbol
When 1 or more spear icons come out on any reel, some of the reel's symbols will transform into wilds.
---
How Does It Look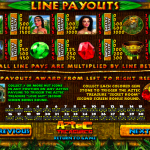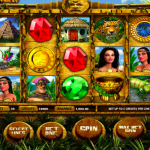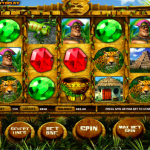 The Bottom Line
Aztec Treasures really contains treasures that will definitely give you the riches that you want out of a slots game. Just imagine the jackpot prize that you can get once you click on the right icon during the Click Me feature. That's just enough for you to think that the ancient civilization is really rich enough to give you amazing rewards like what we mentioned above!
If on the other hand you prefer a good table game instead then consider playing Baccarat by BetSoft.
To play the real version of the game try playing in one of the following BetSoft casinos: