Birds! | Slot Game Review
The Vitals
In More Words
Birds have been a recurring theme in many video games. Even online slot machines have birds as the main theme of the game – such as this game by Bet Soft! Birds! Is a cartoonish 3D video slots game that will show you a wonderful variation of birds flocking together in your online slot machine.
The game is set on a big city – where birds often flock together at its skies. You will get to see various birds that are trying their best to become part of the modern city. The game will show you a variety of cartooonish birds as the symbols of the slot machine that's beautifully adorned. These birds are standing on wires – which serve as the row frame of the reels. The birds on the screen fly away and are replaced by an incoming flock of birds upon hitting the spin button.
If you want to join the birds in this game, you just need to place your bets before hitting the spin button. You can also optimize your betting preferences with the autoplay and bet max options.
Bonus Features
Multicolored Bird
This special bird serves as the wild symbol of the game. This can substitute for all of the colored birds in the game so then you can easily land combos with it. You can get 18 coins per wild symbol.
Cascading Birds
The winning combinations will fly away first in order to give space for some birds to fill up the areas where the winning symbols were. This grants you a chance to land on more combos.
Free Flight System
This is the free spins round can be accessed if you manage to fill the free flight bar with the help of winning and winning. More streaks can give you a boost on the bar so then you can fly free with free spins. These free flights can also occur within the free spins round – giving you a chance to get nearly-unlimited free spins. But take note that this is just a chance!
Gamble Up
The gamble up feature is present in this game. All you need to do is to guess the coin will face heads or tails in order to win. You can have the option to bet 50% or all of your winnings in this bonus round.
---
How Does It Look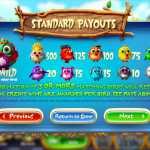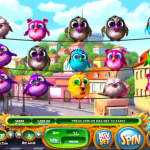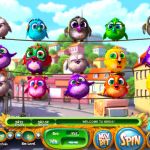 The Bottom Line
This game has a very nice way of showing that slots can turn into a very funny and unique type of game. Birds! Is one of those remarkable games that's just very entertaining for you to watch. However, some don't prefer this game due to the low prize that you can get from this game with an unknown RTP.
Something different? Well if you relate to oil as a metaphor for richness then consider playing Black Gold a 5 reel slot by BetSoft.
To play the real version of the game try playing in one of the following BetSoft casinos: