Blackjack – NetEnt | Slot Game Review
The Vitals
In More Words
Blackjack is an online card game from NetEnt. Since couple of years ago, when this company launched their live casino we have some of the best quality games available. The game is beautifully designed and offers a real life experience. Even though you cannot visit a land based casino, one in Las Vegas for instance, you can still play a game that will bring that experience at the comfort of your home.
Bonus Features
Blackjack is played with 4 decks of 52 playing cards which are shuffled before every round. Before you start playing the game make sure that you are familiar with the basics of the game. The idea of Blackjack is to have a hand that is closest to 21, and if you exceed 21 you lose. You can see all the cards values except for the dealer's second card. There are couple of options on which you can rely. You can split your cards if you get two cards of the same value and play with them as separate hands. You can take insurance in Blackjack. This is only when the dealer's card is and Ace for a certain prize. if the dealer has blackjack you will be paid 2:1. If the dealer does not have blackjack your insurance is lost. After you see your first two cards you can double, that means you will get one extra card. It is also possible to double after a split.
---
How Does It Look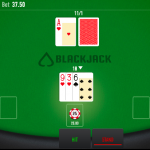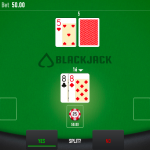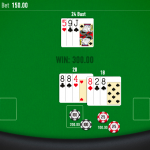 The Bottom Line
Blackjack is one fun game and we need to thank NetEnt for giving us the opportunity to play it. Just choose your bet and play your cards right. You have couple of options available here that will allow you to have a good time and maintain your balance. If you have not tried Blackjack before, trust us you are missing a lot.
If you like try the blackjack professional series then click here.
To play the live version of the game go to one of the following casinos: