Blackjack – Multi-Hand | Slot Game Review
The Vitals
In More Words
There's not much to set Rival's blackjack designs apart from their competitors – namely, Realtime Gaming, Microgaming, and the other big-name designers. All these large-scale designers produce games with a similar aesthetic, down to the colors and general layout of the board. It can't even be said that Rival's performance is better or worse than any other game designer, because their white label licensing style means that performance is a bit different from one site to the next.
This is unusual. We have been able to find these details about the games produced by all of Rival's competitors. Without that information, it's difficult to come up with any solid house edge numbers, so comparing Rival's blackjack variants to those produced by other designers is a huge pain. This is probably the worst feature of Rival's blackjack designs – what do they have to hide, exactly?
Both of Rival's blackjack games have a minimum bet of $1 per hand, with the maximum bet set at $200. This number can vary a bit from one casino to the next – we found one high-roller version of Multi-hand Blackjack at a US-facing casino that allows bets of up to $1,500 per hand.
Here's a list of the blackjack games available via Rival software:
Blackjack
Multi-Hand Blackjack
Of these two games, the one with the lower house edge is Blackjack, which is essentially a standard Las Vegas rules game with a few tweaks. Though it's difficult to come up with a solid house edge figure for this or any Rival game, our best guess is that this game gives the casino an advantage of just over 0.6%. The multi-hand blackjack game is even worse – we estimate this game carries a house edge of 0.9%.
Below you'll find a brief guide to the rules in place for both of Rival's blackjack variants. If your goal is to have fun, poke around, and experience everything Rival has to offer, by all means try both games. If you're looking for the game with the best odds, don't waste time on Multi-Hand Blackjack.
Multi-hand Blackjack is almost identical to the standard blackjack variant described above, except for a couple of game rules and the fact that you can play up to three hands at a time on this version. Unlike in the game described above, players can only double on 9-11, and may not double down after a split.
Decks: No idea how many are used.
The dealer hits on a soft 17.
The dealer is allowed to 'peek' for blackjack.
On a 9 or 11 the player is allowed to double.
You can double after a split.
You are not allowed to surrender.
The player is allowed to re-split up to 4 hands.
Once again if 8 decks are used the house edge could be 0.90%.
Bonus Features
No.
---
How Does It Look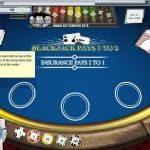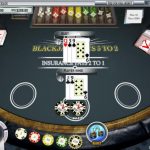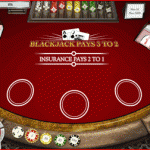 The Bottom Line
Rival Gaming is one of very few blackjack designers that we've reviewed that make their games available to the US market. The fact that they do business with Americans makes them very popular among a certain subset of gamblers. It's also noteworthy that Rival has been in the business of designing casino games since the early 2000s, and appears to be adding new licensees at a rate faster than other designers.
For starters, the company produces just two versions of blackjack, both of which give the casino an edge much higher than the industry standard. It doesn't help that some of the sites that have licensed Rival's software have gone rogue. The big reason for this problem is the fact that Rival releases their games as "white label software," and companies like Netad Management license a few Rival games and rip-off their customers. We're not saying that Rival has anything to do with this – just that it leaves a bad taste in the mouth.
Truth be told, Rival's blackjack games are middle of the road. Not only do they grant the casino a bigger advantage than just about every other online blackjack game, they look dated, and they aren't varied enough to create an atmosphere conducive to replay. When we learned that Rival doesn't even let people know how many decks are in the virtual shoes of their blackjack games, we were a little shocked. It's unusual because every other game designer we've reviewed has given that information away.
That said, Rival does produce online blackjack games that you can play for real money. If you're looking to place blackjack wagers for real (or pretend) money on the Internet, Rival games are available at tons of gambling websites aimed at different markets from around the world. So long as you follow basic strategy, and avoid the Multi-Hand Blackjack game with a 0.9% house edge, you'll enjoy your time spent playing Rival blackjack games.
Simply play and realize for yourself at Rich Casino, SlotoCash, Red Stag, Miami Club, 7 Reels Or Casino Moons and get you coupon!
If you really care about the environment maybe you should consider playing Nuclear Fishin a 5 reel slot by Rival.