Bonus Poker Deluxe | Slot Game Review
The Vitals
In More Words
Bonus Poker Deluxe is a popular game of draw poker. The player gets five cards from the dealer. The player chooses which ones to keep and the ones to discard. Once this is done, the next set of cards are dealt. The winning hand is one where the player successfully has managed to get a pair of Jacks or better. There is a reward for having 4 of a kind. As with all other games, playing with coins naturally increases the winning hands.
The game can be played with $0.05, $0.25, $0.50, $1, and $5. One can view the pay table and the appropriate column will be highlighted according to the number of coins being played. Single credits can be added by clicking at the coin slot located at the bottom right corner.
Bonus Features
The player wins if the final hand is, at the least, a pair of Jacks. Bet One lets the player wager one coin every time while the Bet Max button lets the player wager five coins. Draw Deal deals the cards post the wager. Hold lets the player retain their cards.
Cards are dealt from one single deck in this game of Bonus Poker Deluxe and are re-shuffled. The player can discard up to even five cards. A Royal Flush is the highest valued combo, followed by Straight Flush, 4 of a kind, Full House, Flush, Straight, 3 of a kind, 2 pairs, and a pair of Jacks or higher. A player has to get a minimum of a pair of Jacks to win or else he or she loses. A Royal Flush can mean you have hit the jackpot!
---
How Does It Look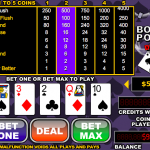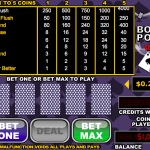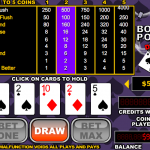 The Bottom Line
Bonus Poker Deluxe with one hand by RTG has good aesthetics and the game is smooth enough. It is an excellent game for beginners. It continues the good selection RTG offers on the video poker front.
If you want to try the 1 hand version of this game you should consider playing Bonus Poker – 1 Hand by RTG.
To play the live version of the game go to one of the following casinos: