Craps – BetSoft | Slot Game Review
The Vitals
In More Words
Craps is a game that's different from most of the games in online casinos as it requires a dice to play the game. This is a game that requires you to bet depending on a certain type of amount that will be shown one the two dice are thrown into the gaming table. This is a game that will surely make you feel different especially if you had enough of playing slots at the moment.
Craps follows the same rule as the original casino game of the same name. The game's mechanics depend entirely on the betting system of the game and not on how the dice is played. The dice is only there to determine if you will win according to your bet or if you will just lose money. This game will make you choose different types of bets.
The Pass Line Bet is the most common bets that beginners do because you just need to choose 7 or 11 if you want to be paid out evenly. Choosing 12, 2 or 3 is called as Craps – which automatically loses your money away. Other numbers are called as Point – which can make you lose if you manage to get subsequent rolls of 7 before the point occurs. But if the point is rolled before getting a 7, you will get winnings depending on the game's paytable. Getting 4 or 10 for the point gives a 2 is to 1 payout; 5 or 9 gives a 3 is to 2 payout; and 6 or 9 gives a 3 is to 2 payout as well.
The Don't Pass Bet is the reverse version of this mechanic. There's also a Field Bet where you can win if the next roll is 2, 3, 4, 9, 10, 11 or 12. All numbers except for 2 and 12 will pay evenly. Lastly, the Any Craps Bet can give you a 7 is to 1 winnings if you manage to get a next roll of 2, 3 or 12.
The game is set on a craps table where you can place your bets. There are buttons for placing and selecting your bets. A button for setting the deal to begin the game is also present here. Chips provide you an organized way to bet as well. All you need to do is to fully learn the game to enjoy it.
Bonus Features
No.
---
How Does It Look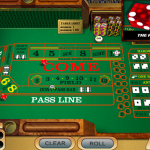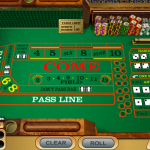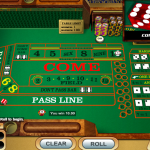 The Bottom Line
Craps is known to be a very complicated type of game that only hustlers in casinos will surely understand. So that means you have to study the game wholly if you really want to know how to bet easily and get out with winnings in this game. Lack of knowledge in playing this game will surely lose you a lot of money. That's why this game isn't always recommended to casino beginners and newbies.
Something different? For a thrilling adventure you should consider playing Dr Jekyll & Mr Hyde a 5 reel slot by BetSoft.
To play the real version of the game try playing in one of the following BetSoft casinos:
Play Free Casino Games: Craps Slot
Craps is one of the more engaging and exciting games. Playing Craps online can be just as fun, if not even more—all from the comfort of your own home.
At BestCasinoCoupons, you can indulge in our Craps Slot, quite the entertaining endeavor which serves to combine the thrill of playing online slot and the Craps table game.
It is a Flash powered game, so you can access it through a browser that has the Flash plug-in enabled. You can use this free online casino game to brush up on how to play Craps, and hone your skills before you head on to playing with real money—if that is what you wanton do, of course.
Get your game on with Craps at some of the top-rated online casinos, all with the help of BestCasinoCoupons!