Cubis | Slot Game Review
The Vitals
In More Words
Cubis is a video slot game from Amaya Gaming that is completely different from what we are used to see. This sort of half cube is placed in an aquarium where we have something that resembles a room with a floor and two walls only. We can distinguish 7 different color cubes. The background of the game can be changed, but you can lock the scenery you find the most appealing like we did.
Bonus Features
The idea of this game is to line up at least 4 of the same cubes either vertical or horizontal. Every time you do, those symbols will disappear and will be replaced with new ones giving you the opportunity to win more. So this seems like you are getting a free spins after every win. There are also some randomly appearing bonus symbols that will help you create more wins. First we have the Wild Dice Multiplier, awarding you with a random multiplier, then Line Bomb, which will destroy all cubes leading in 4 directions from it, Square Bomb will destroy same color cubes and finally the Nuclear Bomb will destroy all cubes on the board.
---
How Does It Look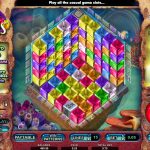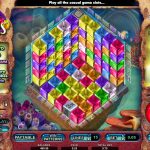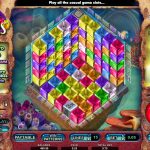 The Bottom Line
Cubis is definitely a fun game to play. We have to say kudos to Amaya Gaming for coming up with a slot like this one. The game play is so pleasing and it is so relaxing watching all those cubes being destroyed with one click only. The game play is straightforward and there are a couple of symbols in this case that will bring some joy to you and to your balance as well. We loved playing Cubis, so for that reason we highly advise you to give it a go as well. We are certain you will enjoy it too.
For an adventure like in the good old times consider playing Bulls Eye Bucks a 5 reel slot by Amaya.
To play the live version of the game go to one of the following casinos: