Double Bonus Poker – 1 Hand | Game Review
The Vitals
In More Words
Double Bonus Poker is a 5-card poker game which gives out a higher payout for special combinations. The amount is double than that of the usual Bonus Poker game. The bonus payouts are made on 3 sets of four of a kind. They are four 5's-K's, four 2's-3's-4's, and four Aces. The pay table starts from Jacks or Better. A deck of 52 cards is used for this game. It is reshuffled before each hand. Double Bonus Poker is a single hand game.
The winning combinations are plenty. They are pairs of Jacks, Queens, Kings and Aces, two pair, three of a kind, straight, flush, full house, four 5's through Kings, four 2's, 3's and 4's, four Aces, straight flush, and a Royal Flush. The Royal Flush has the highest payout with 4000 coins. The more the difficulty of putting a set together, the higher the payout. You can bet between 1 and 5 coins per hand. They need to be from 5¢, 25¢, 50¢, $1 and $5.
Bonus Features
There is no bonus stage for this game. The way you play this game determines the payout you receive. The better combinations you are able to come up with, the higher the payouts. You will be dealt with 5 cards, facing up. You can choose to hold on to them or discard to create the highest winning hand possible. The best way to win the most is by playing max. A Royal Flush on one coin can get you 250 dollars while the same on five coins can earn you 4000 coins!
---
How Does It Look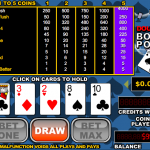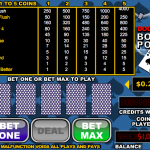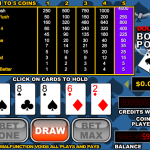 The Bottom Line
Double Bonus Poker is a poker game developed by RealTime Gaming. The player wins if the final hand is at least a pair of Jacks. If not, they lose. This game has quite decent graphics and soundtracks are relevant as well. The company has done a good job of developing this online platform for Double Bonus Poker.
For another great and engaging game you should consider playing Dirty Martini a 5 reels slot by RealTime Gaming.
To play the live version of the game go to one of the following casinos: