Double Double Bonus Poker – 1 Hand | Game Review
The Vitals
In More Words
Double Double Bonus Poker is a video poker game developed by Real Time Gaming (RTG). It is a 5-card poker game with a high payout rate. They also offer bonuses for creating winning combinations. The winning amount is double of what you would have won at RTG's Double Bonus video poker game.
The payouts for the bonus are for 4 of a kind, which are four 5's through Kings, four 2,d and 3's, and 4 Aces. The game begins with Jacks or Better. The other winning sets include for pairs or Aces, Kings, Queens, Jacks, 2 pair, 3 of a kind, straight, flush, full house, straight flush, and the royal flush. The Royal Flush will give you the highest payout in this game, which is 4000 coins! The game is played with a standard 52-card deck which is reshuffled after every hand. You can wager between 1 to 5 cards every spin.
Bonus Features
The player is initially dealt 5 cards, after which they have the chance to discard the cards. You can get more and try to create a winning combination. The best and the highest payout of the game can be received by betting the maximum allowed amount of $5. If you hit a Royal Flush with just one coin, you will get $250. However, if you are lucky enough to get it while playing with 5 coins, you can win as much as 4000 coins! You can double your winnings in the bonus round. In this, the player is dealt 4 cards facing down. All one has to do is to pick a card and if it is higher than the dealer's, the player's winnings will be doubled.
---
How Does It Look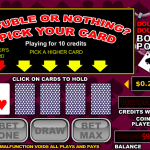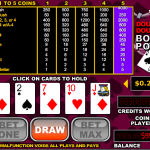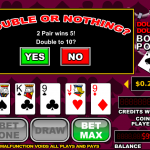 The Bottom Line
RealTime Gaming is a reputed gaming software provider. The graphics and the soundtracks in this game count among the best of today's slots. This game is quite interesting once a person has got the basics.
For another great and engaging game you should consider playing Double Deck Blackjack by RealTime Gaming.
To play the live version of the game go to one of the following casinos: