Downtown Vegas Blackjack | Slot Game Review
The Vitals
In More Words
Downtown Vegas Blackjack is known by all those punters who visited Las Vegas and returned with bundles richer. It is a variation of the traditional game, Blackjack. It is known for its liberal rules and happy payout rates. This combination paves the way for a great gambling experience. The goal of this game is to defeat the dealer. Even if you find other players on the same table, they are not your competitor. You, as the player, need to get a hand which is better than the dealer's but does not cross 21.
At the start of each game, every player gets 2 cards facing up. The dealer also gets two cards. However, only one is facing up. The other is face down. Each player can now decide if they want to split, double down, stand, surrender, hit, or make an insurance bet. Once this is done, the dealer reveals his hands and the winner is announced. This game is usually played with 2 decks of cards.
Bonus Features
There is no bonus stage but with some strategic playing, you can win a colossal amount. As a player, you can split two identical cards or two cards having the same value. You can do this only three times, which means that you can play with four hands. If you split aces, you will get only one card. This is similar to other Blackjack variations. The insurance bet is a popular method of keeping half your wagered sum, it is not a good idea while playing Downtown Vegas Blackjack since it is a double deck game. This means that the house edge on this nearly 6.8%.
---
How Does It Look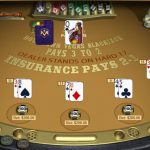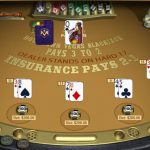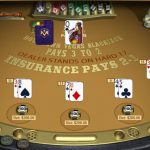 The Bottom Line
If you are a great of fan this variation of Blackjack, then Downtown Vegas Blackjack by Wager Gaming will have you hopping in glee. With great graphics and nice sound effects, it offers the players a nice time.
If on the other hand you prefer the east coast version of the game then consider playing Atlantic City Blackjack by WGS.
To enjoy this game and others from the wide selection of WGS games try the following online casinos: