Electro Bingo | Slot Game Review
The Vitals
In More Words
Electro Bingo is a very easy game from Microgaming. This is just a more modern approach of a game that we all love to play. Some exciting images remind us of a high tech disco party. There are 4 cards each having 15 numbers and in the middle it is the bingo drum. The game will be appealing to anyone who enjoys fast paced action packed game.
Bonus Features
If you have went at least once with your grandma to a bingo you will know what to do. Just in case you haven`t we will refresh your memory. The thing you need to do is to match the numbers on your cards with a set of winning patterns. Here are some of the rules you have to follow in order to win. You do not have to play with one card only, if you wish you can buy them all. For each session the game will draw 30 numbers, and every time you have a given number you need to mark the same on your card. The patterns on your cards are placed randomly and there are 14 in total. In case you are missing couple of numbers, you can buy additional balls, up to 10, for a certain price.
---
How Does It Look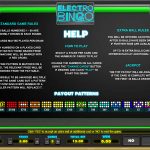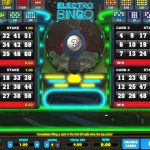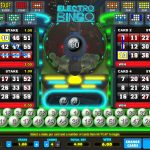 The Bottom Line
Electro Bingo is one of the best games that are coming from Microgaming. Now we are all able to play a simple game that requires no strategy at all. Let's be honest, strategies may be good for people who like challenges, but that can be very stressful at times. On the other hand we have Electro Bingo that is super easy, fun and relaxing game. You can see the transparent sphere on the screen which makes the game more realistic too.
Simply play and realize for yourself at SlotsMillion and get you coupon!
If on the other hand you enjoy a good game of keno consider playing Monkey Keno by MicroGaming.