Gemix | Slot Game Review
The Vitals
In More Words
Gemix is a type of slots game that looks like a mini-game or a Bejeweled and Candy Crush game found in phone apps. This game is even more unique due to its 7×7 reel grid, which makes the game quite complicated at first to look at. The game is also very comfortable to the eye as the grid contains various gemstones that are elegantly shaped and colored to look more appealing.
This game is very addictive once you play it because of what will happen once you start operating the slots. The game is also known to be very unique compared to almost all of the video slots games not just because it looks like a mini-game, but because it also contains a lot of bonus treats for you to enjoy. It also has worlds – which serves as levels and for you to never get bored with repetitive features in the game. These worlds contain three levels that can increase your chances of winning bigger prizes as well.
All you need to do is to start betting based on the bet range before pressing the start button in order to commence the reel spinning.
Bonus Features
A multitude of bonuses can be seen in this game:
World-Based Wild Symbols
The game contains a wild symbol that are differ depending on the world where you're currently at in the game. Here are the descriptions of the wild symbols per world:
World One – 10 miner's lamps.
World Two – Lollipops
World Three – 8 spell books which serve as sticky wilds which locks until you match them with the gems.
Crystal Charges
This is a bonus feature that can be accessed when you get 20 or more gems in a single spin. There are 4 charges that can be given to you randomly on the ball that will spin once you win 20 or more gems.
Nova Blast Charge
This makes a gem explode in order to destroy symbols that are adjacent to the exploded gem. This will drop the gems in order to give you more chances to win.
Crystal Warp
This feature picks one symbol at random to transform matching symbols into different symbols. The matched symbols will still count as a win, and the warp will just serve as an extra chance to win.
Light Beam
This blasts one symbol with a light beam in a horizontal and vertical position just like a cross to transform the symbols into matching symbols based on the symbol that caused the light beam.
Chain Lightning
Lightning will flash on two opposing corners of the grid and change the symbols on the path of the lightning's trajectory.
---
How Does It Look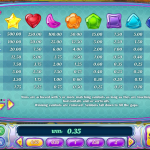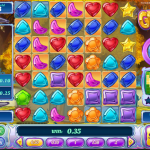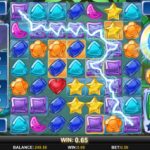 The Bottom Line
Gemix is a slots game with a twist. This makes the game even more exciting especially if you're tired of playing the traditional 5 reel slot games. The bonus features that are very unique in the game will also make you feel like the game is not a slots game anymore, but a Candy Crush-like game that will surely get you hooked up for hours. But take note that this is still a slots game, so expect that you can win real cash in here – another reasons to play the game even more!
Something different? Well if golf is in your veins consider playing Gold Trophy 2 a 5 reel slot by Play'N Go.
To play the live version of the game go to one of the following casinos: