Good Girl Bad Girl | Slot Game Review
The Vitals
In More Words
It is a well known fact that people always have two sides: the good and the bad. We are not perfect that's why there's always some bad qualities that come along with the good ones that we possess. That's why you have to make sure that your good side will be dominant at all times for people to respect you, and that's a struggle that's worth fighting for as our evil is trying its best to become dominant. After all, some bad things can be satisfying anyway.
Good Girl Bad Girl is a slots game by Bet Soft that's themed after the battle between good and the bad. But the theme focuses more on a girl that has two sides: an angel from heaven and a demonic girl from hell. The slot reels is framed after a structure with stone pillars – wherein the left-half has the angel and heaven at its background; while the right side is adorned as an evil structure with the hell and the demon girl on the background. The symbols also contain the angel and the demon, along with some animals and high car values.
To start seeing if you will get good or bad luck in this game, start spinning the reels by pressing the spin button after placing your bets and paylines. You can also go for bet max spin to quickly see if your good or bad side will prevail.
Bonus Features
Wild Symbol
The wild symbol can be accessed after landing a halo or a pitch-fork. These wild symbols effectively substitute all regular symbols in the game. These also contain multipliers of up to x4.
Money Wheel
The money wheel appears on reels 1, 3 and 5. You need to trigger all of the money wheels on the reel to access this bonus feature – which contains a huge progressive jackpot!
Halo and Pitchfork
Getting these two wilds can give you a pick-em bonus. There are four boxes where the flame is the safe option with a smaller winning and gaining access to the next level of the bonus game. The other one that you can get from the box are not entirely safe as it can stop the bonus game. But it has a large winning on it.
Gamble Up
The gamble up feature of the game will take you to a cloud where the girls will spin a coin with good or bad to choose from. Guessing right doubles your money. Losing will reduce your winnings to zero.
---
How Does It Look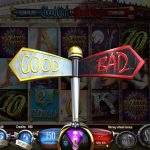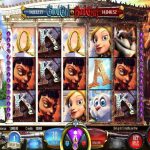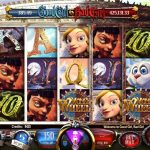 The Bottom Line
See for yourself if you will experience the heaven of rewards, or you're going to experience the hell of being broke just by playing Good Girl Bad Girl. These two will definitely determine if you will win or lose as gambling stands in between – there is no good or evil unless you see how much your money is right now! Take note that this game also has a progressive bonus that's worth watching out for. So get a chance to see your inner angel or demon in this fine game by BetSoft.
If you also believe that goblins hold an immense wealth and want a part of it then consider playing Greedy Goblins a 5 reel slot by BetSoft.
To play the real version of the game try playing in one of the following BetSoft casinos: