Gypsy Rose | Slot Game Review
The Vitals
In More Words
A gypsy knows how to throw a party. In this game, you will feel the gypsy's charm like you're spending weekends even when it's the middle of a weekday once you play Gypsy Rose. This game is themed after a gypsy's hut nad what it has to behold. That's why the game has a bit of magic in its theme as well. The music of the game is also known to be quite enticing as well.
Gypsy Rose is a game that is set in a gypsy's house where she uses her crystal ball to see your future. She also has some magical items with her – which serve as the symbols of the game. There are spellbooks and potions. Even the typical high card value symbols – which is present in the game – were lettered to appear magical as well.
So if you want to get enchanted with good luck and see if it will guide you towards riches, start getting the gypsy's charm by spinning the reels. You can adjust your bets or go at bet max right away in an auto-spin manner.
Bonus Features
Wild Symbols
The game's wild symbol provide the biggest payout per payline once you collect all 5 of then. See how much it will be once you go and get all five on an active payline. It also gives you a lot of prizes if you have three or four of these. These wilds can substitute almost any symbol in the game. Rose will also throw three cards at random areas of the reels for it to become a sticky wild. These can give you a very high chance to winning indeed.
Take note that the crows can also give you a chance to get more wilds as long as it's at the same line with the crystal ball symbol. This also gives a respin with more crow wilds to be placed at random – like they're flocking all over your slots.
Scatter Symbols
The free spins occur when you get two love potions with a crystal ball anywhere on the reels. This gives you 10 free spins where Rose will also throw some sticky wilds.
Tarot Card Bonus
This is a game that's the same as the guessing double up games in most slots. But it has a different type of scoring system. You have to pick 7 face-down cards in a 3×5 grid. Each one will reveal as score once they are faced-up. The type of card and its respective color will be used to give you varying multipliers before it calculates your overall wins. This is a very complicated system; it's better to look at if you just pick the cards and see what happens.
---
How Does It Look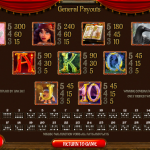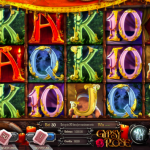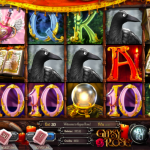 The Bottom Line
Based on the bonus features of the game, Gypsy Rose seems to be a game that contains a different twist when it comes to the typical features found in slots. The bonus, scatter and wild features of the game have their own requirements to fulfil – with way better bonuses to provide than most slot games. Gypsy Rose really knows how to make your fortune better through the use of her charms and spells!
Something different? For a thrilling adventure you should consider playing Heist a 5 reel slot by BetSoft.
To play the real version of the game try playing in one of the following BetSoft casinos: