HighRise | Slot Game Review
The Vitals
In More Words
There is something special in the old classic slots and for that reason Realistic Gaming came up with HighRise. Everything we see in this game is so realistic. The reels are placed within a virtual box, and the sound effects are exactly the same as you are playing in a real life casino. They used all the familiar colorful symbols in 2D fashion.
Bonus Features
HighRise is a 3 reels and 5 pay lines video slot game that offers a simple play. There are no complicated bonus features or any special symbols like wilds and scatters here. But there is still one bonus feature that will improve your balance in a matter of seconds. With every win you land there is a nice animation where the machine moves backwards and now you can see the whole game. Now you have the chance to gamble your winnings or wait for the light to stop and reveal the multiplier. The light stops on a space between -3 and +3, which means how many spaces you will move on the multiplier ladder. And that is not all here, any full house pays the jackpot x100.
---
How Does It Look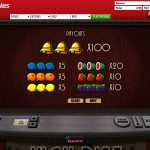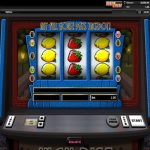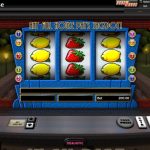 The Bottom Line
HighRise is a very engaging game to play and we have to thank Realistic Gaming for giving us the opportunity to enjoy this slot. We cannot say that there are many games like this one, simple yet entertaining. The animation that comes with every win virtually transports us to a real land based casino, and we must admit that is a great addition to the game. The betting options are so wide here and everyone can find the right bet for them. We believe that if you give this game a chance you will enjoy it the same way we did.
For another great engaging game you should consider playing GOAL! a 5 reel slot by Realistic Games.
To play the live version of the game go to one of the following casinos: