Jacks Or Better – 10 Hand | Game Review
The Vitals
In More Words
Jacks or Better is known to be the most popular video game around. The reason for this is that it is quite straight-forward and easy to learn and play. The pay table follows the standard rules with the highest paying hand being the Royal Flush. It is followed by Straight Flush, Four of a Kind, Full House, Flush, Straight, Three of a Kind, Two Pair, and Jacks or Better. Betting all 5 coins on each hand will make sure that you get the best return percentage. The jackpot at max bet is inflated.
In this variant of Jacks or Better, you will be dealt 5 cards. The payouts will be according to the series above and in the order. The game uses a 52-deck card which is reshuffled every hand. You can choose to bet anywhere between 1 to 5 hands per hand. The coin size ranges from 1¢, 5¢, 25¢, 50¢, and $1.
Bonus Features
This game has no bonus stage. The best payout is playing max bet. A Royal Flush on one coin pays 250 coins but a Royal Flush on five coins pays 4000 coins. A ten-hand grid is used in this variant of Jacks or Better. The bottom hand shows the starting cards. You can choose whether to discard or hold the cards while you go on to create the highest paying hand. Every hand uses a different 52-card deck. Each hand consists of the same held cards as do the bottom hand. You will have to draw in order to be deal the remaining cards from the other decks.
Hands without any winning combinations will get shaded out. The winnings hands will be shown on the pay table and the highest combination will be paid on each hand.
---
How Does It Look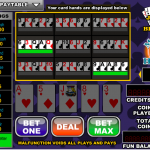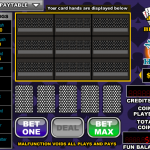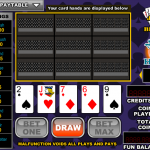 The Bottom Line
Video poker cannot get simpler than Jacks or Better. It is even better that this game is hosted by Real Time Gaming. For those who are just starting out, they can use the game's feature of highlighting the cards to create a winning hand.
For another great and engaging game you should consider playing Jacks Or Better – 1 Hand by RealTime Gaming.
To play the live version of the game go to one of the following casinos: