Jacks Or Better MH | Slot Game Review
The Vitals
In More Words
Jacks or Better MH is one of the common video poker games by Play n' Go, but has its own unique features which makes the game very lovable by some poker fans out there. The game is known to have unique designs that made the game more distinct when compared to other video poker games in online casinos.
The game is known to be very informative to new players, which is more unique in its own right as some video poker games often leaver newbies confused. The game contains instructions which explain the winning hands that you might get once you start dealing with the game. The game also shows how the multi-hand feature works so then you can exploit it as much as you want.
The game contains the usual poker deck, meaning that the game only contains 52 cards without any joker in it. All you need to do is to start placing your bets and activate the deal button in order to make the cards appear. Once the five cards appear, you can hold one or all of the cards so then you can choose them as your winning cards once the winning hand comes out after pressing the deal button once again.
But what made the game much better to play is that you can play up to 100 hands at the same time – an amazing feature for those who want to bet multiple times.
Bonus Features
The game's bonus feature is the usual challenge where you need to beat the dealer by drawing to see if you will get a higher card than the one chosen by the software. Getting a high value will increase your winnings by x2. You can even quadruple your winnings by going for another attempt. But losing will lower your winnings to zero. That's why you have to choose wisely when making an attempt for this bonus feature.
---
How Does It Look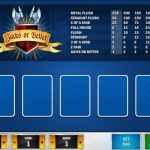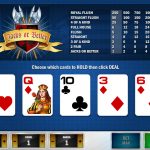 The Bottom Line
Jacks or Better MH is a game that's excellent for any video poker fan, and it's way more easier to play for newbies who don't have any idea about video poker yet. Rest assured that this game will make you learn how amazing video poker really is. It will guide you step-by-step in every mechanic in the game so then you can play like a hustler even if it's your first time trying video poker online.
For an enchanted type of game consider playing Jade Magician a 5 reel slot by Play'N Go.
To play the live version of the game go to one of the following casinos: