Joker Poker – 10 Hand | Game Review
The Vitals
In More Words
Joker Poker is video poker game by RTG. The game consists of a 5-card draw. There is one Joker in every deck. You will be dealt 5 cards facing up. You can discard or hold as many in order to create a winning hand. You can bet anywhere between 1 to 5 coins every hand. You will get the best payout when you are playing max bet.
The game has a fun interface which is enough to lure you into playing this amazingly interesting game. This game should be much easier than the other poker games because you have got a wild card. The Joker is your wild card. It works to replace any card that you have in order for you to have a winning combination.
Apart from having the usual poker hands, you will find that there are some more, such as Kings or Better, Five of a Kind and Joker Royal Flush. Since the Joker can help you create winning hands, these are possible to achieve. The minimum hand needed for a win is a pair of Kings or Aces. The goal of the game is to come up with the best poker hand from the cards you've been dealt.
Bonus Features
There is no bonus stage. A ten-hand grid is used in this variant of Joker Poker. When you are dealt with 5 cards, only the bottom hand shows the starting cards. You can choose to hold or discard. Each hand uses a 53-card deck and has the same held cards as the bottom hand. You need to draw in order to be dealt the remaining cards from other hands.
Apart from the usual hands, Sequential Natural Royal Flush pays the most. If you are dealt 10, J, Q, K, A in order, you will win 20,000 coins.
---
How Does It Look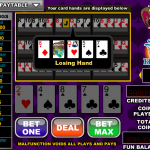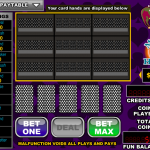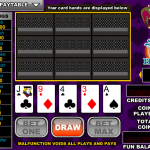 The Bottom Line
Joker Poker with 10 hands is a super-fun variant of the classic game. It is easy and hard at the same time to create winning hands. The interface is easy to navigate through though the graphics could use more updates.
For another great and engaging game you should consider playing Jacks Or Better – 52 Hand by RealTime Gaming.
To play the live version of the game go to one of the following casinos: