Joker Wild (Multi Hand) | Game Review
The Vitals
In More Words
Joker Wild (Multi Hand) is a video poker game from NetEnt that we gladly play whenever we can. The game had its name because of the extra card, the Joker that is added to the deck of standard 52 cards. Since Joker Wild (Multi Hand) is brought to us by one of the best providers we have an amazing game in front of us. The graphics are superb and the game play is fast, what else should we look for in a game than this?
What makes this game so special is the fact that you can play with more than one hand at the same time. Since this is an upgraded version of the game you can easily switch from one hand to another without having to leave the screen. If you have played poker before you will see that the same rules apply here as well. We have the usual hands here and they are as follows: two pairs, 3 of a kind, straight, flush, full house, 4 of a kind and straight flush. But that is not all. We have some special hands too in this version of poker. 5 of a Kind is when all 5 cards are with the same value and a joker, Royal Straight Flush is a royal straight flush with a joker completing the hand. Natural Royal Flush is royal straight flush without a joker and Kings or Better is when you have a pair of kings or aces, or king or ace completed with a joker.
---
How Does It Look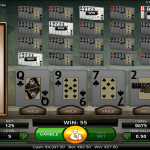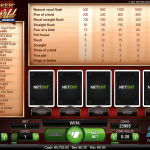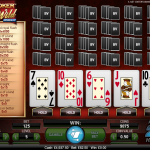 The Bottom Line
Joker Wild (Multi Hand) is a video poker game that we would highly recommend to anyone who is into this kind of games. Thanks to NetEnt, now we can enjoy this game from the comfort of our home and still have a real life experience.
For another all time favorite and a multi hand version as well try playing Deuces Wild MH by NetEnt.
To play the live version of the game go to one of the following casinos: