Kawaii Dragons | Slot Game Review
The Vitals
In More Words
To those who don't understand Japanese, kawaii means "cute". That's why you should expect that the dragons shown in this game are actually adorable than dangerous as what medieval-themed slot games have to offer in their own version of dragons. This game is themed to make the game appear like a child's game but with cute dragons as the main content. But take note that there is a high risk in this game because you get to gamble your money against these dragons that don't seem ferocious at first.
The game contains cartoonish versions of dragons that are designed to appear "kawaii". The game also makes sure that it's very friendly to the eye that's why light colors were used on almost all of the game's content. The game is also set on a set of hills that's drawn like a children's game. That's why you might find this game too cute enough to play as a slots game.
But take note that awesome rewards are present in this game. So be sure to try and make an attempt to get the right dragons by spinning the button upon placing your bets or upon betting at the max amount with a click of a button. You can also go autospin mode if you want to make quick spins while betting under the same amount.
Bonus Features
Wild Flames – The flame symbols are the wild symbols of the game. This replaces all other symbols except the scatter symbol. Getting more than three of these wild symbols can help you win bigger as well.
Purple Dragon – The purple dragon is the most special of all the dragons as it's a scatter symbol. It doesn't any means to get aligned in a payline in order to give you winnings. Just place three of them anywhere on the reels to get 10 free spins with winning combinations paying you two times.
---
How Does It Look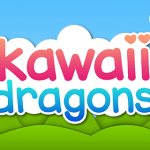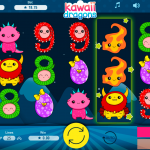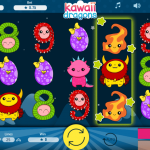 The Bottom Line
You have to take note that the dragons here in Kawaii Dragons aren't all about cuteness. Take note that you might lose a lot in this game if you don't know how to balance your own bets. So be careful for these tiny and cute critters are still dragons that might east all your money away!
Something different? Well you should consider playing La Romantica a 5 reel slot by Booming Games.
To play the live version of the game go to one of the following casinos: