Keno | Slot Game Review
The Vitals
In More Words
Keno is a popular game in Australia and the US. This game works a bit like bingo and is hugely popular. Keno machines are a common sight in the Australian bars. This game by Wager Gaming works a bit differently. It contains a progressive jackpot. The game is extremely simple to and exactly why it is loved so much. One can even say is addictive! It is better to steer away from the Auto play function as you can end up going through your cash pretty quickly if luck is not favoring you.
The play area is a 10 x 8 grid. The results of the last few plays can be seen on the left side of the game screen while the pay table is located on the right side. The potential winnings are listed here. You need to start by choosing ten numbers present on the grid. You can do so by clicking on them. Pressing go will let the game select 20 squares. These will be marked with a cross icon. If the computers selections and yours have at least three in common, you will win. The winnings start with 0.5x on three matches and can go up to 10,000x for ten matches.
Bonus Features
Sometimes, a joker might be present within a square. This will be counted towards the joker bonus. You might even be lucky enough to get a free game with doubled wins. This is, of course, with the exception of jackpot hits. The jokers will be cleared after this. The jackpot details can be seen in the top right-hand corner. You can win the jackpot when the game creates a "J" at the screen when picking the tiles.
---
How Does It Look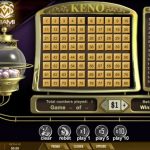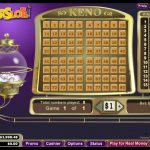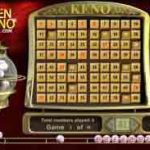 The Bottom Line
Keno by WGS is a game best played when you leave it to the auto feature and hope for the best! This game by Wager Gaming has given many people some good times!
For something totally different you should consider playing Dynasty a 5 reel slot by WGS.
To enjoy this game and others from the wide selection of WGS games try the following online casinos: