Let Em Ride | Game Review
The Vitals
In More Words
Let Em Ride by RealTime Gaming is a kind of poker game. The player requires a pair of 10's or better in order to win. You will be dealt 5 cards, of which 3 will face up and 2 will face down. You can choose to reveal the face-down cards or increase your bet with every turn of the cards. This game follows the standard paytable where you can win the highest with Royal Flush at 1000:1.
However, you can place only one bet on the table at the beginning. You can raise it, if you want, on the subsequent rounds. Instead of having a fixed jackpot for a $1 as a side bet, this game has a progressive jackpot that grows the more people play. The jackpot is worth $10,000 that you can win with a Royal Flush. A straight flush will get you 10% of the amount.
Bonus Features
There is no bonus stage in this game. Although, if you learn the correct strategies, you can make a decent sum. Let's take a look at how this game will proceed. Select your chips and place your bet. If you want to qualify for the jackpot, you have to make a $1 bet before the cards are dealt. You will get 5 cards. You will place the ante bet before the cards are dealt. You can raise or double your ante bet on the first three cards or continue without placing a wager. The max ante bet is $120.
When the fourth card is revealed, you can again choose to Raise or Continue. Once the fifth card is revealed, winning hands will be paid. The aim of the game is to have a hand containing at least a pair of 10s or higher.
---
How Does It Look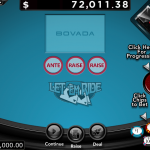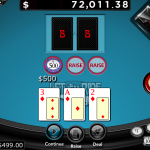 The Bottom Line
Real Time Gaming's Let Em Ride is a great game as it comes with the promise of a jackpot. US players are welcome here and the payouts are not bad either! You should definitely check this out.
For another great and engaging game you should consider playing Keno by RealTime Gaming.
To play the live version of the game go to one of the following casinos: