Lucky Diamonds | Slot Game Review
The Vitals
In More Words
Diamonds may be a symbol of luck. But there are some diamonds that can make you feel lucky just by seeing it. You can see the luckiest diamonds here in this game and rest assured that it will take you towards a huge jackpot! Lucky Diamonds is a 3-reel slot machine game that's designed after the classic slots found in casinos. This type of game also has a decent jackpot of 2500 coins which is worth the grab as long as you score the right symbols on the paytable.
However, it seems that the game only has 1 payline as seen to the reels which lacks the digits for the paylines on the side of the three reels. This means that your winnings will be determined on the middle symbols on the three reels shown in the game. Gladly, the bet range of the game is between $0.25 and $5.00, making the game worth wagering.
The slots game also features the classic slot symbols such as the cherries and the bar. But what made the game unique in its own right are the diamond symbols that come with the reels. The diamond symbols can guarantee you a winning jackpot of 2500 if you match all three of them on the reels.
Bonus Features
Sadly, the game doesn't feature any bonuses such as wild symbols or free spins. The game only compensates for its lack of bonuses through the means of its jackpot and the fewer symbols found on the paytable. Thus, you will only get easy chances to win. But it's still up to your luck to determine whether you will win a decent prize or not.
---
How Does It Look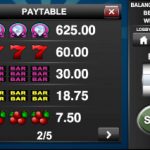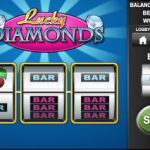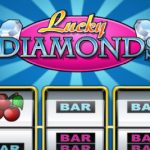 The Bottom Line
You can say that Lucky Diamonds is all about being simple if you just want to play a fine game of slots without the need to get confused with 5-reels or any other bonus rounds. This game is meant for the classic casino players who just want to enjoy and relax by seeing those reels spin until you score some winnings. The bet range is also good enough for you to risk a chance to win bigger as well.
Even if it's not that time of year, if you love the holidays consider playing Merry Xmas a 5 reel slot by Play'N Go.
To play the live version of the game go to one of the following casinos: