Madder Scientist | Slot Game Review
The Vitals
In More Words
Some say that madness is the result of too much intelligence. The mad scientist in this game is the proof of madness where he has proven that he has reached the peaks of science, or maybe he thinks that it's not the peak yet. So join his mad scientist as he tries to become the Madder Scientist in this slot game. All you need to do is to give him ideas by showing the right symbols for him to achieve the perfection of science.
This game is set on his very own lab as seen from the many gadgets and chemicals that he's operating and using for experiments. The screen of the slots are right before the mad scientists and all you need to do is to start pressing the flash that says spin in order to start operating it. There are different components of a mad scientist's lab that serve as the symbols of the game. The frames of the reels are similar to the stereotypical machinery that's mainly used by mad scientists in shows to perform their experiments. So expect a lot of wires and light bulbs on it.
This game isn't spooky after all even if the sound looks like something that came out of Halloween cartoons. So go ahead and start spinning by choosing the spin flask. You can also operate the large machinery beside it for a max bet spin. If you don't hurry up in deciding, the mad scientist may get impatient enough to throw some flasks to the ground just for you to hear.
Bonus Features
Carrot Bonus
The breakout bonus game can be activated by getting three carrots anywhere on the reels.
Wild Symbol
The switch symbol makes one of the reels into a reel filled with wild symbols for a large chance to get bonuses.
On-Reel Game
The on-reel mini-game can be activated by activating three chemical breakers anywhere on the reels as well.
Re-Spinning
The mad scientist can control the reels with his own technology. But you can only get him to do that if you pay him with 1 coin or more. This gives you the chance to respin any one of the reels as many times as you want to see if you can have the chance to adjust a bonus that you almost got.
---
How Does It Look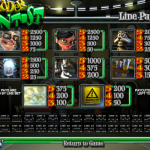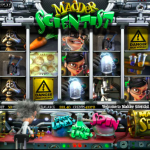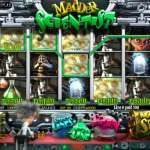 The Bottom Line
This game has its own unique surprises that we didn't expect to have when we first tried Madder Scientist. This makes the game one of the easiest to play if you want to get more winnings as it's generous in providing its own dose of bonuses and extra features that will surely get you mad with winning big.
If you love big progressive jackpots then you should consider playing Mega Gems a 5 reel slot by BetSoft.
To play the real version of the game try playing in one of the following BetSoft casinos: