Mini Blackjack (Standard Limit) | Game Review
The Vitals
In More Words
Mini Blackjack (Standard Limit), as its name suggests is a mini version of online blackjack brought to us by NetEnt. The interface of the game is quite simple without any out of the ordinary animations, but this is made for a reason. We have a game that offers fast and super easy game play.
Mini Blackjack (Standard Limit) is very easy to play. The game uses 4 standard decks of 52 cards without Jokers. Before each hand is dealt the cards are shuffled, just like in any other game that comes from this provider. There are 3 variations of the same game and the only difference is the bet size they have to offer. Now, we have the standard version of the game that offers bets that go between $1 and $40. The idea of the game is to have cards that have total value closer to 21 than the dealer, but cannot exceed 21. There are some rules you have to follow in this game though. The dealer stands on 17. You can make double on any 2 cards but you are not allowed to double after a split. On each split aces, one card is dealt. When the dealer has an open ace there is an insurance against a blackjack, but here is no surrender in this version of the game.
---
How Does It Look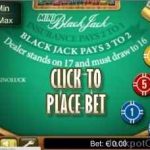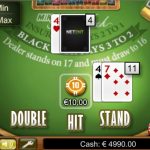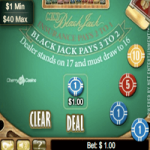 The Bottom Line
Mini Blackjack (Standard Limit) is a fun game to play. This game is brought to us by NetEnt, and when we hear the name of the provider we know that we have a winner. They pay attention to every detail before they launch a given game, and they did the same with this game as well. The game does not have the realistic look the other versions of the same game have to offer, but it offers a fast play for a change.
If you like exploring through the unknown jungles then consider playing Go Bananas a 5 reel slot by NetEnt.
To play the live version of the game go to one of the following casinos: