Mystery Joker | Slot Game Review
The Vitals
In More Words
Slots and other casino games are always themed after jokers. This game isn't an exception as well. Mystery Joker is a 3-reel slot game that contains amazing prizes and a considerable bet range so then you can take the risk of winning a high prize. However, this game seems to be quite annoying to some players when it comes to listening to its sound. That's what made the game quite uncomfortable. But it's a good thing that you can always have the option to turn off the music when needed be.
But despite the game's irritating sound effects, the game is said to be very balanced. Some even say that it's a simple slots game that's perfect for players who don't want to get confused with all the extra mechanics of some 5-reel slot games. The game follows the traditional slot game fruit symbols such as the cherries and lemons. But the game also features some stars and bells for more prizes. The game also has its unique joker hat symbol which serves as the highest-paying value.
Take note that there is a huge bet range between 0.50 up to 100.00 coins. Some advise to just go to one-digit bets as higher bets will unnecessarily eat all your cash away and is not worthy to wager for slots games. But it's still up to you once you start playing. So good luck in getting the mystery joker!
Bonus Features
Mystery Joker features the free spins round. This game needs you to align three joker hats on your designated paylines. If you manage to score the jokers, you will get 10 free spins. You can get as many free spins as you want once you keep on winning the joker hats. This feature is also very hard to get in the slot game as the chances are extremely low. But that doesn't mean that you can't try out your luck!
---
How Does It Look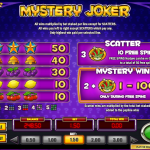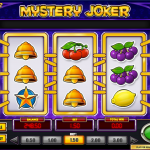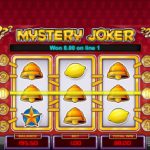 The Bottom Line
So if you just want to play the classic slots game, Mystery Joker is the perfect game for you to play. The simplicity of the game makes it perfect for those who just want to play faster than the 5-reel slots. But some might find this game quite boring and annoying if they kept the sound on for a long time. So it's up to you whether you want to play a simple game of slots or if you want more thrill like some of the other 5-reel slot games by Play'N GO.
For a truly captivating slots game consider playing Myth a 5 reel slot by Play'N Go.
To play the live version of the game go to one of the following casinos: