Oasis Poker | Slot Game Review
The Vitals
In More Words
Oasis Poker is a game that's based on the Caribbean Stud Poker. This is another successful variation of poker that's famous in many casinos around the world as well. Some players even do this kind of game for their own entertainment as well. The game follows the traditional rule of poker where you need to compare combinations by rank such as comparing between Flush and Straight – wherein Flush wins.
But the mechanics of this game is quite different as you need to place an ante bet based on the given bet range. One you're done, you can either set the deal or clear your bets to set a new amount instead. Pressing the deal button will cause the dealer to give itself and you with 5 cards. You only get to see one card from the dealer. The computer will also indicate the type of card that you have. You can also have the choice to see your cards or not. You can go ahead and raise your bet in this mode or you can switch any number of cards in exchange of your ante bet. You can also fold if you want to give up.
Once you finally place your bets and have decided to play the cards, or right after switching, the dealer shall compare the cards with you. The mechanic to win is to simply get a higher card combination than your opponent.
Bonus Features
No.
---
How Does It Look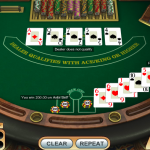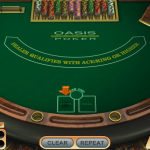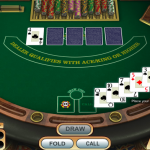 The Bottom Line
Oasis Poker has that very classy poker table that's just perfect for playing the game. The sound of the game is also cozy enough for you to enjoy several hours gambling whatever money you got there. So if you feel like poker is your game and you want a different twist with it, then this game of Caribbean Stud Poker may be the perfect one for you.
If on the other hand you prefer slots then you should consider playing Once Upon A Time a 5 reel slot by BetSoft.
To play the real version of the game try playing in one of the following BetSoft casinos: