Over The Rainbow | Slot Game Review
The Vitals
In More Words
Over The Rainbow is a video slot game from Realistic Gaming. Even though this game is played on 3 reels and it has only 1 pay line it still has a colossal potential. You see those pots of gold, well just land them on a winning line and the jackpot is yours. This is a classic game that incorporates simple theme, but it still offers so much time. To be honest most of the times we are looking for simple games to enjoy and to remind us of the old good times. The sound effects perfectly match the theme of Over The Rainbow.
Bonus Features
There are a couple of special symbols, or actually in this game they are the usual symbols having an extra function in this game. Okay, so to see what we are talking about we will explain them. The pot of gold in front of a rainbow symbol is the wild in this game and it will multiply every win with x2. If there are 2 wilds in the winning line then that win will be a subject to x4 multiplier. Cherries symbol functions as a scatter because it can pay even if there is only one on the pay line, and 3 mixed bars will pay x4 your stake.
---
How Does It Look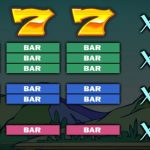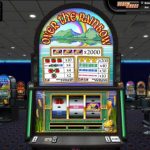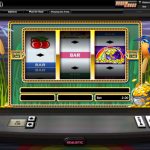 The Bottom Line
Over The Rainbow turns out to be a very generous and fun to play. Well, it seems that people from Realistic Gaming are really making a difference, especially when it comes to the classic retro slots. We really enjoyed playing this online slot. The game play is smooth and there are a couple of changes that will only spice the things up. The betting options are wide so every kind of a player, whether a low roller or high roller, can find the right bet size for them.
For another great engaging game you should consider playing Jackpot Cherries a 3 reel slot by Realistic Games.
To play the live version of the game go to one of the following casinos: