Paco And The Popping Peppers | Slot Game Review
The Vitals
In More Words
Mexican-themed slot games will always remind you how maracas sound and how the wonders of fiesta during a clear skied day can give you a very happy vibe. Some of these games are even designed to become quite cartoonish in order for it to appear more entertaining for your eyes. Paco and the Popping Peppers is just the same as most Mexican-themed slot games. But it has still its own unique features for you to enjoy.
The game is set on a stage on a fine day in some Mexican place. There is a Mexican on the left side of the screen that's wearing the usual hat and poncho. The game is also filled with hats which serves as buttons and bet indicators. Drums and a guitar also contain the commands for selecting pay lines and for buttons such as spin and max bet spin. On the center of the stage lies the slot reel symbols that are placed in a 3×5 position. The symbols contain different Mexican fruits and vegetables with faces on it. There are also fiesta-related item such as pinatas.
So if you want to feel the joy of being in a fiesta, then test your luck in this game. All you have to do is to select the bet amount and pay lines before pressing the spin button. Auto play and max bet are merged in a single button in this game so then you can make an automatic spin if you just want a quick play.
Bonus Features
Here are more features of the game that will surely make you feel like it's fiesta:
Multiplier Bonus
Activate three pinata symbols in order to activate this feature. This automatically multiplies your winnings by 10x once you activate this feature.
Fiesta Bonus
A special bonus will be given to you once you activate the tiki hut symbol. This will enter you into a high and low guessing game where your earnings can be doubled. Three incorrect guesses will close the round – which is very risky as it can take your winnings away.
---
How Does It Look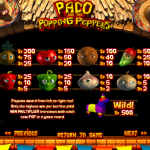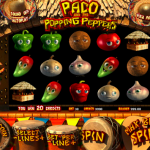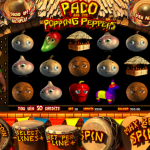 The Bottom Line
Paco and the Popping Peppers doesn't really have anything surprising in it except for the fiesta theme and the good graphics used in the game. But there are some who say that this game is quite generous when giving away winnings – making it a good game for you to score coins at an easier rate. Gladly, they did this as a compensation for the lack of extra symbols
If slots isn't really your thing then you should consider playing PaiGow Poker by BetSoft.
To play the real version of the game try playing in one of the following BetSoft casinos: