Pai Gow Poker | Game Review
The Vitals
In More Words
Pai Gow Poker brings images to mind of a complicated Chinese card game. However, today, it is one of the most popular games available in casinos across the world. It is now available in online casinos as well. The game does not require luck alone. Skill is an important part of this game as it is totally on the player to decide how they must split the hand. But that's the beauty and enjoyment of this game. Pai Gow Poker is played with one deck of cards. It contains 53 cards including the one Joker. It is a one-on-one game with the dealer.
Bonus Features
The game begins when the player makes a bet. The minimum bet in this game is $5 per hand while the maximum goes up till $100. Both the dealer and the player get 7 cards each, all of which are face down. Both of them need to divide their dealt cards into two hands. The highest hand will consist of 5 cards and the other hand will have cards.
The first and the most important rule is that the second hand cannot be higher than the first hand. You can make use of the Joker to substitute any card to get a straight, flush, straight flush or a royal flush. The game continues like any other poker game except for the fact that the straight having 1,2,3,4,5 is considered the second highest ranking straight. The dealer wins if they win both the hands. The player wins under the same conditions. If a hand draws a tie, the dealer wins.
---
How Does It Look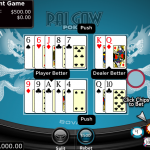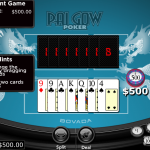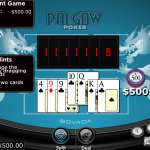 The Bottom Line
Pai Gow Poker is a free game offered by RealTime Gaming. It can be played on smartphones as well along and is accessible for the US players too. The only thing you have to note is that you cannot play the demo version on your phone.
For another great and engaging game you should consider playing Mister Money a 5 reels slot by RealTime Gaming.
To play the live version of the game go to one of the following casinos: