Poker3 Heads Up Hold'Em | Slot Game Review
The Vitals
In More Words
Poker 3 Heads Up Hold'em is the classic game of poker. This time, Bet Soft made sure that the game will look more realistic than before. This means that you will get to experience playing in a digital casino against another person playing at your table. You can really say that the game is also a very modern one as it also provides a rare feature present in casino games: 3D graphics.
The game lets you choose an opponent to compete with first. There are four characters that you can choose. Below the opponent selection are the amount of bets that you can choose for the game. Choose wisely on the amount that you want to bet. Once done, you can press the Deal! button to start the game.
Knowledge about poker rules is requires in this game as you need to understand what the following combination of cards will be and how ranked they are. The game is surprisingly simple when it comes to its commands to play the game: you just need to call according to your chosen bet, and fold if you feel unsure about your card. The 3D graphics shoiw the player and your hands moving when making the bet. They made a good design for the characters though.
This game is guaranteed to be fun for those who want to practice playing poker only as the game is just one-on-one. This isn't the perfect game for poker players who are looking for more thrills such as more players to compete with or higher stakes to bet at.
Bonus Features
No.
---
How Does It Look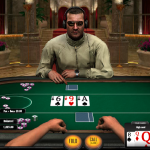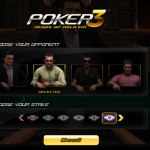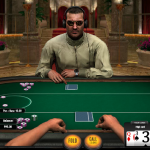 The Bottom Line
Poker 3 Heads Up Hold'em is a game that will definitely make you learn poker even more. All you have to do is to understand the poker rules and card combinations before playing, and you will easily understand how to bet and fold in the game. This may not be the full version of Hold'em Poker, but this is an excellent game to try for poker newbies and beginners.
For something completely different you should consider playing Alice In Wonderslots a 5 reel slot by Playson.
To play the real version of the game try playing in one of the following BetSoft casinos: