Pontoon | Slot Game Review
The Vitals
In More Words
Pontoon is a game that's entirely similar to the American Blackjack game. Basically, it's a game where you need to get a value of 21 or at least higher than the dealer in order to win the round. This game works well with more hands so then you can have more chances of winning as well. Many say that Pontoon is the British version of Blackjack.
Pontoon values jacks, queens and kings as 10. While Ace to 10 are respectively valued as 1 to 10. The digital banker will start dealing cards on each hand that's going to wager. The banker will also provide its own set of cards. You can go ahead and do moves like double up and split in the game just like most Blackjack games. But you have to be wary of the following:
The Pontoon is the best hand which is 21 points that's made of an ace, a ten and king/queen/jack.
The Five Card Trick is the second highest hand which is a hand of five cards.
A hand of three or four cards with a value of 21 serve as the next highest.
Hands with 20 or lower values with fewer than five cards need to rank their values in order.
Hands with more than 21 points are completely useless in Pontoon!
The game has a Twist option where your stake will be unaffected and the dealer gives you one face up card on your hand. This can only be done when your hand is less than 21 You can get up to a fifth card as long as the value isn't 21.
You can 'buy' a card by increasing your stake by adding an amount that's at least equal and not more than twice your first bet. The dealer will give you a face down card instead. You can buy a fourth and fifth card if the value is still less than 21.
---
How Does It Look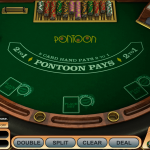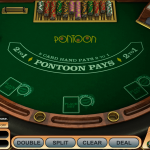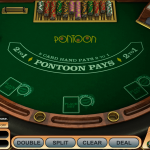 The Bottom Line
Pontoon contains special rules that may make the Blackjack game complicated but more fun in terms of getting higher stakes and winnings. Pontoon is a classic game that a lot of British players enjoy if they wish to play a fine game of Blackjack. All you have to do is to understand the rules completely for you to become a hustler in this competitive game against your rival banker.
If on the other hand you prefer playing slots then consider playing Puppy Love a 5 reel slot by BetSoft.
To play the real version of the game try playing in one of the following BetSoft casinos: