Reel Fear | Slot Game Review
The Vitals
In More Words
Never put the lights out when playing this game. Reel Fear is a horror-themed game that will surely scare you out once you play the game alone in the dark. But what's scarier is when you play this game when it's not your lucky game. This is a gambling game and that means you will receive the risk of losing along with winning. So be careful out there.
The game is filled with horror-based stuff such as scary ghosts, eyeballs, and even a bloody bunny doll. The game's reels are also framed with chains to make the game creepier. The gray background of the game also contains a vibe of scariness into it.
But if you're just up to gambling, for sure you will have a lot of fun as the mechanics of betting are simple. You just have to place your bets or bet at the max amount in order to place the risk that you want to take. You can also go autoplay so then you will see if your spins have yielded you a better winnings so then you can leave the game if you're creeped out with the game's content.
Bonus Features
Wild Crucifix – A bloody crucifix serves as the game's wild symbol. These can substitute symbols within the game for better chances to win. The wild can also give you a jackpot prize of 500 coins once you get all 5 of them in your payline. However, some report that this wild symbol doesn't substitute to other combos in the paytable.
Scatter Ghost – The young creepy ghost girl is the scatter symbol of the game. This symbol can give you up to 15 free spins once you land one of these three times anywhere in the reels.
---
How Does It Look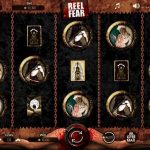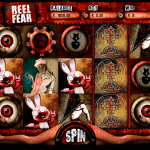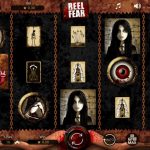 The Bottom Line
The graphics of the game are excellent for horror-themes. However, the game lacks extra bonuses that's why some might see this game a worthy to play for the long run. Reel Fear is definitely something that might give you the creeps once you play it due to the music of the game. That's why people fond of ghosts and horror stuff are the best players of this game. Lastly, a faint-of-heart player should never try to play this as it might chick them
Something different? Well you should consider playing Revolution a 4 reel slot by Booming Games.
To play the live version of the game go to one of the following casinos: