Rock The Boat | Slot Game Review
The Vitals
In More Words
Rock The Boat is a traditional classic slot from Microgaming for every Elvis` fan out there. The King of the rock and boats is not something we would expect, but probably has to do something with the parties that Elvis attended. Although, we doubt that the boat was this small though. All the symbols here are the traditional BAR symbols and just to spice the things up a bit they added a light house.
Bonus Features
Rock The Boat is a simple game that is very easy to play. There is a lack of special features but that is the charm of classic slots. The game has only one special symbol, the wild, which is an image of Elvis of course. The wild`s role is to substitute for every other symbol to complete a winning combination. It has another function as welland that is to multiply every win it is part of. If you have one wild in a winning combination your win will be a subject to a x 2 multiplier, and if you have 2 wilds your win will be a subject to a x 4 multiplier. This is a great addition to a classic slot, it adds some thrill to the game play.
---
How Does It Look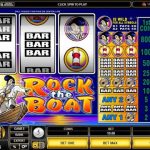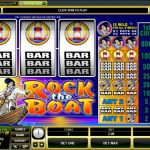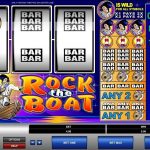 The Bottom Line
Rock The Boat is a slot that is old fashioned, but that was Microgaming`s intention in the first place. They have created a classic slot and included one of the most popular American singers, Elvis. The game play is simple with no distractions at all. All you have to do is to choose the number of coins you want to wager and just enjoy a simple relaxing game, just what the games were invented for in the first place. What else can we look for in an online slot?
Simply play and realize for yourself at SlotsMillion and get you coupon!
Another great example of a classic slot game is Rapid Reels a 3 reel slot by MicroGaming.