Sails Of Gold | Slot Game Review
The Vitals
In More Words
Set sail towards more cash once you go and play Sails of Gold. This is a game that's themed after the adventures of the historical Christopher Columbus. The game is themed after his journey back in the old days. That means you will get to see compasses, royal flags and even Columbus's picture as well. The game's slots are also based on the classic paper map that adventurers used before the GPS was invented.
The game lets you choose between $0.01 and $1.00 as your bet range. There are up to 10 lines that you can select if you wish to bet even more. You can go ahead and press the spin icon shown on the right side of the screen to initiate playing. You can also pick the Auto Play button if you wish to bet the same amount on multiple spins.
The game contains numerous symbols that's common to slot games. These are the J, Q, K, A and 10 symbols which are also lettered based on the classic archives of Columbus. The game also has bonus symbols which can help you score even more money. So go ahead and set sail towards riches by playing this awesome game.
Bonus Features
There are three bonus features in this game:
Wild Symbol
The picture of Christopher Columbus is the Wild Symbol. This symbol can replace all of the symbols except the Scatter symbol. This means that the bonus symbol is included – a feature that's uncommon in most slot games .The Wild symbol can make you get more winnings if you land on them
Scatter Ship
The ship symbol is the scatter symbol. If you land on three of them. You will be able to get 10 free spins right away.
A Bonus For Gold
You can win more by accessing the Golden Ship which only appears during the free spins. So that means you have to win the scatter symbols first. The bonus symbols can help you receive 10 free spins and a chance to win a large bonus of 250000 coins!
---
How Does It Look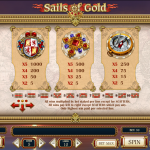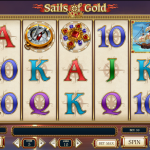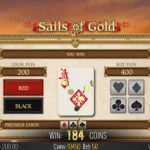 The Bottom Line
The thrill of adventuring is just the same as gambling for a chance to win. The only difference is that gambling can surely guarantee you an increased amount of money while adventuring will cost you only – unless you land on a chunk of gold. But hunting for gold isn't a modern thing to do anymore. That's why it's best to go for the Sails of Gold instead.
If you prefer something really festive and fun consider playing Samba Carnival a 5 reel slot by Play'N Go.
To play the live version of the game go to one of the following casinos: