Stickers | Slot Game Review
The Vitals
In More Words
If you feel that the best games ever are retro styled then you are in for a treat with Stickers from NetEnt. Sometimes we do too. So, let's spin those reels and find our favorite fruits and line them in a win. The bright blurry fruits that can be seen in the background make this game very cheerful and fun. The sound effects are simply made to complement the theme in every way possible.
Bonus Features
When it comes to special symbols in this game there is only one, a red heart symbol on a gold background which acts as a wild. Missing a scatter is something we did not expect from this game, but that is ok since the wild is the key to the main feature. The main feature is the Sticky Wild Spins which is where all the fun happens and it goes like this. If you manage to land a wild that wild will remain in place and award you with one extra spin. If you manage to land another wild on the next spin then both wilds will remain in place and you will get another free spins, and so on. If in case all reel positions are covered with wilds you are in for a huge prize of 80,000 coins.
---
How Does It Look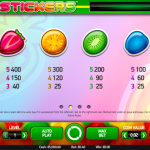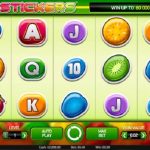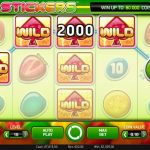 The Bottom Line
Stickers is a nice game from NetEnt. The game play is quite straightforward with a special feature that makes this slot look like one big bonus game. Another great thing in Stickers is that it offers a wide range of betting options so every kind of a player will be happy, no matter if it is a high roller or a low roller. We would advise you to give this simple game a chance and see that it has so much to offer.
Something different? We're sure everyone has heard the story of the count from Transilvania… So consider playing Dracula a 5 reel slot by NetEnt.
To play the live version of the game go to one of the following casinos: