Sugar Pop | Slot Game Review
The Vitals
In More Words
If you like games like Bejeweled and Candy Crush, then this game might be for you. Sugar Pop! Is a game made by BetSoft. It's supposed to be a type of slots game, but it is more of a specialized slots game due to it using a grid but with a different mechanic of gameplay.
The game starts with the first level. Colorful candies are adorned on n a 5×5 grid. You have to break these colorful and shaped candies by matching three candies horizontally or vertically in order to break them. This causes a new set of candies to fall down the grid. The cascading candies can also create combos. If they get aligned horizontally or vertically as well.
You can progress in the game's level as you keep on increasing the level up meter on the right part of the game screen. This can be filled by landing combinations. There are 4 candy worlds that you can visit in the game, and it has a maximum level of 20. Take note that your progress will never get saved here as this game is still a slot game. So that means you will get back to zero once you restart or close the game webpage. But your winnings will be saved to your account. So don't worry!
Bonus Features
Super coilor
Get this by hitting a combination of 4 or more candies of the same color. Match this candy to win multipliers.
Color Bomb
This explodes the reels. You just have to match five pieces of the same candy to create the color bomb and to shatter the whole screen!
Candy Cane
This is only meant for players who reached level 10 and above. This lands a candy cane on a certain area to break all candies in its same row and column.
Cotton Candy
This is for players who reached level 20 and above. This lands a cotton candy to summon a tornado to sweep away the other symbols so then you can help you get the winning symbols in the grid.
Jelly Beans
This is for level 12 players and above. This lands 1 – 5 jelly beans that will fly across the screen. It explodes anything it lands on.
Caramel Chew
This sweet treat is a bonus round. This is for players who got level 2 already and it causes the caramel to break any candy it chews.
Gum Drop
This is for level 6 players and above. This sucks a lot of candies before it explodes.
Lollipop
You can use this at the start. You can hit this on your final spin to swirl the candies at random positions so then you can have chances to win.
Chocolate
This indulging feature can be landed. A 3×3 box will come out and the candy will melt into chocolate. This gives way for new symbols to give you a high chance to win.
Jawbreaker
This symbol is for level 8 players and above. This crushes ore symbols at the reels.
White chocolate
This is for level 4 players and above. This causes players to complete combinations by firing almonds. This shatters a candy so then you can have a chance to land new symbols.
---
How Does It Look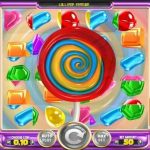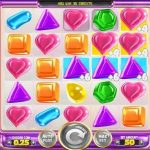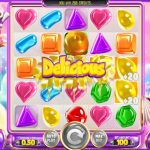 The Bottom Line
Cascading is the technique here in Sugar Pop! The strategy is just like its non-gambling counterparts. It also needs you to be lucky at complicated levels just like in Candy Crush games! It's a game that will test your mind with every level that you will progress as you keep on playing the game. This is also an entertaining way for you to gamble at something without the need to play traditional casino games like card games and slots.
If on the other hand you are more into blackjack then consider playing Super 7 Blackjack by BetSoft.
To play the real version of the game try playing in one of the following BetSoft casinos: