Sunrise Reels | Slot Game Review
The Vitals
In More Words
If you are an early bird you will love Sunrise Reels, a video slot game from Realistic Gaming. Playing your favorite game and watching the beautiful sunrise in the background with all those magnificent colors in the sky is simply priceless. The symbols are all traditional ones that are used in classic games. So you can see your favorite fruits in large numbers here as you spin the reels. The game is placed in a realistic looking machine to bring the experience to your home, or on the go, if you are playing with your mobile device. The sound effects are also authentic which makes the game even more believable.
Bonus Features
Sunrise Reels is played over 3 reels and 5 pay lines and it is very easy to master. There is no wild or a scatter here, which means there are no overcomplicated special features so you can concentrate on the game play. The only thing that is worth mentioning here is that the symbols appear stacked so this can bring some huge wins your way. This is a high variance game so be prepared for colossal wins actually.
---
How Does It Look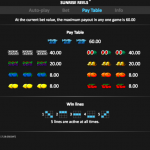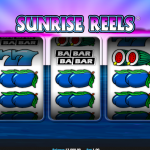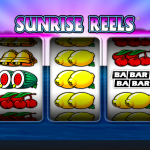 The Bottom Line
Sunrise Reels is a really nice and calming video slot game. Realistic Gaming did this on purpose. They wanted to create a game that will transport you to a place where you can forget all your troubles and concentrate on the game only. The game play is simple so you do not have to frustrate whether you will activate a feature or not. Sunrise Reels is an excellent classic slot that we really enjoyed playing so for that reason we will recommend it to everyone. We are certain that you will find something you will like here in Sunrise Reels for sure.
For another great engaging game you should consider playing Snapshot a 5 reel slot by Realistic Games.
To play the live version of the game go to one of the following casinos: