Super Nudge 6000 | Slot Game Review
The Vitals
In More Words
Super Nudge 6000 is probably one of the most realistic looking video slot machines from NetEnt. So, if you long for a slot that will take you back in time, this is the right game for you. We cannot say that there are many games like this one that incorporate so many details like this one. The game will transport you in an all American diner where the coffee is steaming and the birds are flying outside, even you can see some Lorries from the window. The sound effects are so realistic and they resemble an old slot machine too.
Bonus Features
Super Nudge 6000 is a classic slot so that means the main focus is paid on the game itself. There are no special features here like free spins or mini bonus games either. There are not even special symbols like wilds and scatters. The machine is split into two parts, and the main game takes part in the bottom portion. All the symbols are from a classic slot, like lemons, oranges, bells just to name some. You just need to land the right combination on a pay line o win a cash prize. Once you do, you can collect your win or you can go up to the top screen for a little gambling opportunity. The reels are slightly different there and you will get nudges depending on the size of your win.
---
How Does It Look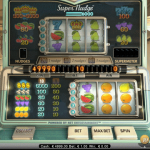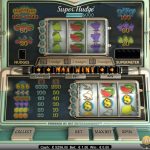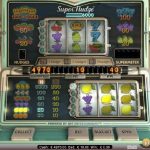 The Bottom Line
Super Nudge 6000 is one heck of a game from NetEnt. This is a game where your main focus is on the straightforward game with no distractions whatsoever. Especially nostalgic players will love the diner ambience this game has to offer. They will feel like they are actually sitting in front of an old slot machine and reminisce of the good old times.
Something different? Well the next one you should play just because of its name… Creature From The Black Lagoon a 5 reel slot by NetEnt.
To play the live version of the game go to one of the following casinos: