Symmetry | Slot Game Review
The Vitals
In More Words
The latest video slot game from Realistic Gaming is called Symmetry and it is all about neatness. If you manage to find perfectly neat patterns here you are in for some big wins. Some of the symbols include the familiar gems and couple of other valuable items. The sound effects are cheerful and are a nice addition to the game.
Bonus Features
There are no special symbols in Symmetry like wilds and scatters, so you are probably thinking that there are no special features either. But this is where you are wrong. There are even 2 special features here a Bonus Game and a Symmetry Bonus. The first feature is activated every time each reel has stacked symbols after the spin is over. Then you have to halt the stopper on one of those reels. That reel will remain in position and all the other reels will spin and every reel will have at least one of the symbols that are on the locked reel. The other feature is triggered the same way but this time we need symmetrical patterns on the reels. The process is the same here and it is possible to land some really good wins during this feature.
---
How Does It Look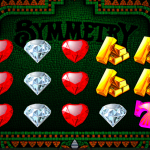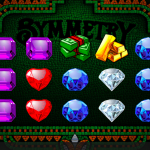 The Bottom Line
Symmetry is somehow different from what we are used to see, especially when it comes to the features. This is why this game from Realistic Gaming is still so attractive among players. And this is for a reason; we have a really nice game play and couple of features that will increase our balance at no time. The betting options are really wide and they allow every kind of a player to find the right bet size for them. It turns out that this is a very lucrative game so we believe that you should give it a try.
For another great engaging game you should consider playing Super Graphics Upside Down a 5 reel slot by Realistic Games.
To play the live version of the game go to one of the following casinos: