The Crackdown | Slot Game Review
The Vitals
In More Words
Enter the world of crime with Crackdown. But don't worry, this game won't get you in jail because it's a legit 5-reel slots game designed by Booming Games. This game is themed after popular series Breaking Bad and world-famous online action game Grand Theft Auto V. This game will take you into the world of crime and drugs as the theme of the slot machine is focused on it.
That's why you will see symbols based on drugs and crime such as guns. It's definitely not for kids to see when you play this type of game – not to mention that it's a gambling game. The game also has a remarkably good graphics – which is a recurring quality of the Booming Games company. This game also has controls that are very easy to operate.
You just have to press the spin button in order to start spinning. You can bet on any amount as long as it's within the bet range. But you can have the option to bet at max if you like to utilize your money at its best. And you can just keep on playing this without the risk of cops entering your home!
Bonus Features
The Money Symbol – The money symbol serves as the wilds – which can substitute for other symbols to land easier and sure-win combos. Collecting all three of them pays 100x your bet, four pays 250x your normal bet, and getting all five on a payline allows you to get the jackpot of multiplying x15000 on your bet!
The Scattered Crystal – A blue glowing drug is a scatter symbol that pays winnings as bet multipliers in order to give you more money when winning. This activates regardless of its position in the payline. Three of these can give you a x5 multiplier, with 10x on four, and x20 on all five. It will soar you to sky-high winnings!
Before the Verdict… – The game also has the double-up feature that's famous in some slots and video poker games. But instead of guessing between card values and colors. The game prompts you to choose between a character in the game named Jesse and a Law Enforcement Agent. Choosing the right one lets you win double your earnings. Going for another gives you quadruple. However, you have to choose wisely as it can lower all your earnings to zero.
---
How Does It Look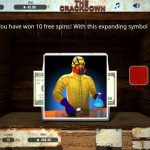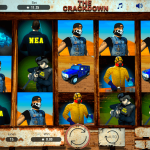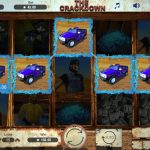 The Bottom Line
The Crackdowm appears to be a game that's meant for adults only. It's themed after a popular TV show that's why you will surely like it if you're fond of those types of games. The game also features some amazing bonuses that will skyrocket your money to its limits. That's why this game can get you high with gambling. So be careful!
Something different? Well you should consider playing Wild Cherries a 5 reel slot by Booming Games.