Tower Quest | Slot Game Review
The Vitals
In More Words
Tower Quest really lived up to its name thanks to the features that it possesses. This game is themed after a medieval-type quest game but in the form of a slots game. It's one of the Play'N Go slots games that will surely make you bet for a lot of coins just to hit as many cash as you can. This game will take you on a whole new journey to battle the Evil Wizard.
But before all that, you need to bet first. You can go ahead and bet amounts based on the bet range of the game. Pressing the "spin" button starts the game itself. You can also bet for the maximum ,amount right away or you can choose Auto Play in order for you to bet on the same amount for up to ten spins.
There are several features that are added in the slots game such as collecting bottles to get bonus rounds and by using cards with an attack and health just like most medieval quest games. The cards that you will encounter throughout the game can also give you prizes and can help you deal damage to the card. They also have a feature that can let you do a special attack that might even deal damage to you.
Basically, this game can make you feel like you're going to an adventure while all you want to do is to bet..
Bonus Features
The game contains several extra feature for you to enjoy.
Bonus Round
The game features a bonus round where you need to collect bottles in order to access it. The bonus round shows a card that has its own attack and health values. Defeat the cards as instructed in the game in order to get ,more prizes and multipliers that will make your slots game even better. They also have a mechanic where you need to use a dice in order to attack. Getting the same value on two dice rolls during the bonus round can make you launch a special attack to beat your opponents quickly. They also have a Super Power feature where you need to roll the same value on three dice.
The Power of Bottles
They also have a wild card which helps you get free spins and bonuses. It can be accessed by getting the blue bottles. The first level is the Tower where you can get free spins on the third reel and winning can give you a x2 multiplier. The next level is the Battle of the Wilds where the highest paying symbols become a wild symbol if you manage to get a free spin. The last level is the Towers of Dark Power where the first, third and fifth reels contains a wild symbol for a free spins as well.
You can also get more free spins by collecting red bottles on every stop of the reel. You need 20 red bottles to get the reward and you need 30 bottles to get another free spin. The red bottles also have a set of levels. The first one is the Empowered Wilds that's the same as the first level of the blue bottle bonus. But this time, this level has a x3 multiplier. The second level is Wild Adventures where you can get up to 5 free spins as long as you land on the highest paying icons. The last one is the Everburning Wilds which helps you get a sticky wild symbol this time – which results in 5 free spins if you win the wild symbols at this bonus level.
---
How Does It Look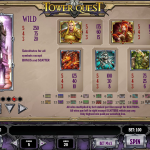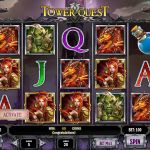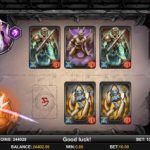 The Bottom Line
The Tower Quest really is exciting because it will bring you to a real adventure even if you just want to wager your money in a nice game of slots. It's one of the best games in online casinos especially if you're a person who's also fond of video games. Expect that this game contains a lot of surprises that's as hidden as a treasure inside a tower filled with evil wizards
For an amazing interactive adventure consider playing Troll Hunters a 5 reel slot by Play'N Go.
To play the live version of the game go to one of the following casinos: