Tycoons | Slot Game Review
The Vitals
In More Words
Being a tycoon means that you're good at playing your money when it comes to business. Those who have dealt with gold and steel from the past are now tycoons who have developed a wealthy family with lots to inherit due to their hard work and wits. This time, you can get to have a chance to live like one in Tycoons if you manage to work hard for your winnings in this game.
This game is set on a tycoon's mansion. The game's slot machine is the front area of the house – adorned with pillars which serve as reel frames. The symbols of the game include elements of the lavish lifestyle such as bottles of expensive wine, businessmen, the tycoon herself (the main character), sports cars and briefcases of money.
This game is your ultimate chance to become as rich as a tycoon. All you have to do is to place your bets before hittin g the spin button. You can also go for the max bet spin in order to bet quicker as well.
Bonus Features
Scatter Symbol
You can get free spins if you manage to trigger at least three symbols of Tycoons with the mark 'fs' on the right hand corner of the symbol. This gives you a chance to play for free and with an exciting twist.
Wild Reel
The free spins round causes the reels 2, 3 or 4 to become wild during the rounds. This can help you land on combos easier as they can substitute other symbols in the game.
Click Me Bonus
This can be triggered by getting gold, cash and checkbook symbols in order. These become Click Me symbols where you can pick one of them to reveal the instant prize.
Poker Bonus
You just need to get at least three card dealer hand symbols. This enters you into a poker game where the four tycoons in the game are playing. You have to predict which player has the better hand so then you can get a high number of prize. This can also give you the chance to win the progressive jackpot bonus of the game.
---
How Does It Look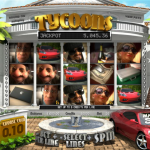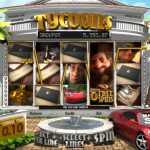 The Bottom Line
Tycoons will definitely make you feel like it's your time to get rich not just because of the interesting bonuses that you can get from it. Take note that there is a progressive jackpot present in the game – giving you a better chance to win and become totally rich by the end of your gaming session!
For another fun and engaging slot consider playing Under The Bed a 5 reel slot by BetSoft.
To play the real version of the game try playing in one of the following BetSoft casinos: