Ultimate 10x Wild | Slot Game Review
The Vitals
In More Words
Ultimate 10X Wild Slots powered by Wager Gaming is a popular game in the market, thanks to the progressive jackpot. The players can win $10,000 with the jackpot and can even make use of the Gamble feature. Since this game is mobile friendly, it is even more convenient for the users. This 3 reels, 1 pay line slot has a maximum bet of $15. The pay table is located at the top of the screen and lists all the payouts and the symbols.
The Ultimate 10X Logo and the Triple 3X symbol are your main symbols. One can win 10,000 credits for a one coin wager, 20,000 credits for a two coin wager, and 30,000 credits for a three coin wager. The wilds, bonus features, and the huge jackpot all speak of a great slot. In this game, you will see symbols like 7s, bell, a cherry, a diamond, and bars. There is also a 3x symbol, and a 9x symbol.
Bonus Features
The 3x symbol pays out three times your wager when one symbol shows up on the pay line and nine times when two symbols show up. The wild will pay 10 times the bet when one symbol shows up and 100 times your bet when 2 icons show up. In the case of a 10x symbol and a 3x symbol making an appearance, the player will get 30x the bet. Any combination of 10x and 3x will pay the player 7500 credits for one coin, 15,000 credits for a two coin bet, and 22,500 credits for a 3 coin bet.
---
How Does It Look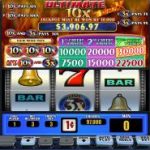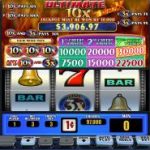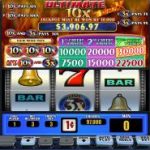 The Bottom Line
Ultimate 10x Wild gives the players a lot. With progressive jackpots, huge payouts with the wilds, and a fun base game, this slot has entertainment and rewards all sorted out for you.
If you can't have enough of classic slots consider playing 7x Lucky Sevens a 3 reel slot by WGS.
To enjoy this game and others from the wide selection of WGS games try the following online casinos: