Win Sprint | Slot Game Review
The Vitals
In More Words
Do you think you got what it takes to win the race in the latest video slot game Win Sprint? This game comes from Realistic Gaming that can test your stamina. Well, no worries even if you are not physically prepared you can still play this game in the comfort of your home. The game uses the traditional symbols that we all love like, lemons, cherries and plums, just to name some and adds a futuristic look to it.
Bonus Features
There are no special symbols in Win Sprint like wilds or scatters but that does not mean that the game does not have anything to offer. There are symbols that appear on the first, second and the third reel that together spell the word "win" just like this: "W", "I" and "N". These symbols are the key to the only feature in this game called Win Sprint Bonus Game. You need to land all these 3 symbols on the first, second and the third reel on an active pay line to activate the feature. You will receive 1 respin with a multiplier that increases by x1.
---
How Does It Look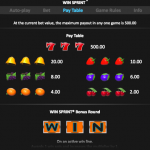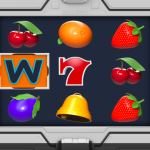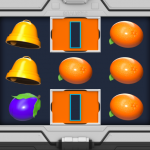 The Bottom Line
Win Sprint is definitely one of those games that are worth the try. We enjoyed playing this Win Sprint, but then again we have a really nice experience with all the games that come from Realistic Gaming. The game play is really nice and there is one feature that will spice the things up. We usually choose to play this kind of games whenever we are overwhelmed with all those complicated slots and we need a change. But the fact that there is a special feature that can slightly increase our balance is always welcomed. So, for that reason we will advise you to give it a chance.
For another great engaging game you should consider playing Tutankhamun a 5 reel slot by Realistic Games.
To play the live version of the game go to one of the following casinos: